From Petr Novak´s blog:

Why to use charcoal for heating tea water? To make it simple, I usually say that it helps to make our tea time complete. The quality of water, its composition and energy, is crucial. On the other hand, the way how we bring it to boil is more subtle. For me, there are few important points why I prefer charcoal to other sources of heat.
– I like to play with fire
– It improves my water
– It gives natural rhythm to my tea time
Therefor we create stoves to make it possible.
Well, here is something new what we can be proud of. And it is this: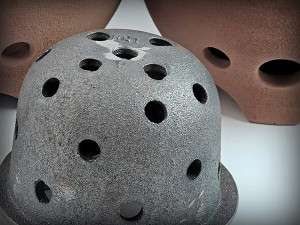 What is it? Iron cast basket, which works as kind of grate in our ceramic stoves. Idea of this was born in Mirka's head after few cracked baskets in our stoves and many tests with different clays, shapes and designs. We wanted something, what would be easy to use even for beginners, without permanent worries, if the stove will survive another fire or not. Iron cast basket looked as a simple solution. How it is often in life, idea is one thing and reality another and it took us over a year to receive first pieces of iron cast to start with. After Mirka has made design of the basket, we search for iron cast company to make it for us. From thirty contacted just three were able to make the shape and details we asked for. And after some more discussion we start to cooperate with small iron cast factory and first prototype reach us last fall. I started to test it and I found out that there are changes, which have to be made. More holes, thinner walls, to lower the shape. Iron cast mold had to be rebuild…
Finally, after the New Year, Mirka was making first ceramic stoves with iron cast baskets. First, some testing pieces for me and our friends. Now it is growing, new shapes, clays, surfaces. Inspired by tea community, she is using her creativity to make functional stoves, which will be adornment of your tea session and yet, are not too distinct, screaming from behind your tea table.
Even though most rules of usage are the same as with whole ceramic ones, I still would like to mention them again:
– as iron cast is thermal shock resistant, you can more freely start fire directly in the stove. Using wood chips, playing scoutboy, or using gas spray gun is not problem anymore. Just don't forget to use common sense. Starting fire indoors this way is for example not good idea. Also, if you use wood or charcoal from bone fire to light up charcoal inside such stove, you will need later on to clean holes in the basket from ash. Some kind of iron chopstick works here.
-be aware, that iron cast keeps heat for very long time. It is good thing when you are boiling water, you will find that even hour after your tea session, it can be still hot. So don't leave it without supervision. Do not pour water over iron cast to cool it down, it might crack!
-Mirka's stoves are suitable for all kind of kettles. Tetsubins, glass, silver or ceramic kettles, all will work on such stove. Just when the bottom of the kettle is really flat and wide, the heating of water can be slow. If you are not sure, let us know sizes of your kettle and we will check if it would work.
source: http://potsandtea.blogspot.de/