We have received the second batch of
oolongs
and
black (red) teas from Taiwan
. All of them have been carefully selected from small farmers, some of them are organic. Take a look at their stories.
Gui Hua Oolong: Gui Hua is the Chinese name for the Osmanthus flower. There are two main varieties of Osmanthus bush/ tree. One is white and has a scent similar to lilac and the other is orange and has an apricot like scent. This is the variety that is commonly used in tea making, including this one.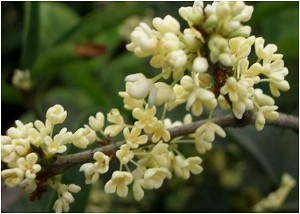 Osmanthus produces very fragrant flowers. Most speciese are native of China. About 22 cities in China select Osmanthus as their city flower. In China, its flowers are infused with green or black tea leaves, to create a scented tea called guì huā chá. In Chinese cuisine, the flowers are also used to produce osmanthus-scented jam, sweet cakes , dumplings, soups, and even liquor. This Osmanthus Oolong is made with Si Ji Chun (4 Seasons Spring) varietal tea trees.
Si-Ji (Four Season) Oolong
Si-ji oolong is a naturally hybrid cultivar found in tea farmer "Da To Hwei" (Big-head Hwei)'s plantation in Mu-Zha, Taiwan. So people sometimes call it "Da-To-Hwei son". It was introduced to Ming-Jian, NanTou by the tea farmer Lee Chai-Yuan. Its strong growth rateimmediately acquired a lot of attention and popularity among tea farmers. Mr. Lee thought the name "Da-To-Hwei son" is not very exquisite, so he gave it a new name "Si-Ji Chuan" (Four-season Spring) to signify its strong growth rate in all four seasons. Sometimes people call it Si-ji oolong. Si-ji oolong has an intense floral/fruity aroma. Comparing to Chin-shin oolong, the aroma has a "wider" feeling. However, just as its original name people feel its aroma is not as exquisite as Chin-shin oolong. It is more popular in low to medium-elevation tea plantations in Taiwan.
GABA stands for Gamma-Aminobutyric Acid. It was first produced in 1987 in Japan where it remains a very popular type of tea. Our Taiwanese GABA tea is an all organic and natural product. It is made from high-grade whole-leaf that is naturally rich in glutamic acid – the precursor to GABA, and meets or exceeds the Japanese standard of 150 mg of GABA per 100 grams of tea.
R-amino butyric acid was found inadvertently by Dr.Tsushida Tojiro from Japan's National Tea Experiment station in 1987 when he was doing research for the Amino acid metabolism of tea. He noticed that the tea leaf contains the rich Glutamic Acid which could transform into r-amino butyric acid and aspartic acid which could transform into Alanine Acid. It was a miracle to find GABA tea incidentally because it differs from the traditional way to produce tea. Tea is usually produced in an oxygen rich atmosphere but GABA tea is produced in a nitrogen rich atmosphere without oxygen.
Many clinical studies have shown that the ingestion of GABA releases growth hormone, especially after exercise, with remarkable effectiveness. The release of growth hormone is known to increase lean body mass. Consequently, Gaba tea is an nvaluable nutritional supplement for body builders, power lifters, runners, martial artists, and athletes of all types. In addition, because of its calming and soothing effects, GABA also lowers blood pressure, helps control hypoglycemia, prevents anxiety and promotes restful sleep. To an extent, it also regulates appetite, which is helpful in maintaining optimal weight. All tea has health-promoting compounds, but GABA tea has the highest concentration of anti-oxidants, including catechins, flavanoids, and polyphenols. Anti-oxidants are helpful in fighting many types of disease including: cancer, Parkinson's disease, senility, drug-induced deafness, schizophrenia, and Alzheimer's disease.
GABA Tea Production:
Fresh tea leaf is put into a high pressure barrel and vacuumed until the barrel is free of oxygen. In order to make sure and prevent oxygen from entering, nitrogen is flushed into the barrel and left for more than 6 hours (depending on the weather, tea leaf and other factors sometimes more than 10 hours are needed). When it is done, the leaf is taken out of the barrel, then fried to halt fermentation, rolled, dried, compressed, rolled, compressed and finally redried.
This GABA tea is made of hand picked leaves from Jin Xuan varietal tea bushes.
Jinxuan Oolong (TaiCha #12; 27-son)
During WWII, Japanese occupied and colonized Taiwan. They did a lot of field researches of Taiwan's tea cultivars. So when they left after WWII, they also left behind a well-established tea research institute. From 1945, Prof. Wu continued the research and tried to develop new cultivars from about 5000 seedlings that Japanese left. Not until 1982, "TaiCha #12" was officially declared for a unique and new oolong cultivar that has higher growth rate, very charming "creamy" aroma, and better disease-resistance. Because the tags that indicated TaiCha #12 cultivar in the research field said "2027", many farmers got used to call the new cultivar "27 son" before it got its official name. The original researcher, Prof. Wu, chose the name "Jinxuan" (day lily) in memory of his mother. Since its introduction, Jinxuan gains increasingly popularity among tea farmers and consumers. Its growth rate can be 30%~50% higher than the more traditional Chin-Shin oolong. And its unique "creamy", sometimes sugarcane-like,aroma and soft liquor quality especially attract a lot of female consumers.
This tea comes from the same tea workshop operated by Mr. Liang that produces the Hong Yun. This tea is the most popular tea in the Yu Chi Sun Moon Lake Tea growing area. It is also the most famous type of Taiwanese Red tea for export. One sip and you will recognize its characteristic flavor. It is made Taiwan Tea Varietal #18; which has come to be known as Red Jade. I would recommend it for someone who is looking for a bright, lively and spicy red tea. It brews great in a pot of course, but I've also realized that it is also perfect for bowl tea; especially on a cold winters day.
Its long, beautiful twisted leaves are of the recently introduced TRES-18 hybrid which is a cross between an Assamica strain from Burma and the local indigenous wild tea strain, also called Shan Cha from which is made ourYuchi Wild Mountain Black Tea, Lot 139. Developed by the Tea Research and Extension Station's Yuchi branch, this unique varietal proposes the full character and body of an Assam with exuberant fruity notes of wild plums, hints of cinnamon and a fresh menthol finish. This unique black tea is surprisingly generous and may be re-steeped several times similarly to it's famous Taiwanese oolong cousins.
Dong Ding (Tung Ting) is one of the most famous Taiwanese Teas. Its heyday was during the 70s and 80s when Taiwan's economy was taking off and there was an emerging middle and upper class to fuel the development of tea art; and use very high quality tea. Later, in the 90s, high mountain teas became more of the fashion. Many farmers in Lugu Township tried to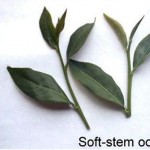 copy the new greener, less oxidized and lightly roasted high mountain teas. At that time, pesticides and fertilizers were over used; inflicting long term damage to the ecosystem which was the biggest benefactor of the 'classic Dong Ding'flavor. Additionally, much of the craft of making traditional Dong Ding Wulong was lost as grandfathers became too old to make tea and sons became influenced by the modern shortcuts and green wulongs.
This Dong Ding is called 'Old Master' because it is made by an old master tea maker and his wife (also a master) who still make it in the traditional way-'true' Dong Ding. They use soft stem wulong varietal leaves, no pesticides or chemical fertilizers and many laborious steps specific to traditional Dong Ding in crafting the tea.
Soft Stem Wulong cultivar is the original type of tea plants brought to Lugu Township from the Wuyi Mountains in Fujian Province, Mainland China. They were used to develop the widely popular Qing Xin Wulong varietal.
Introduction to the Farmer:
Ming Jian is lower altitude, in the foothills of the central mountain range. In the last few decades, such lower altitude tea has been adumbrated by the popularity of the teas grown higher up. Ming Jian has prospered by providing lower priced teas for export, or large-scale production for the bottled tea market (often called "Ready to Drink" RTD). Mr. Xie's family has grown small-scale productions of Oolong tea through three lifetimes, since before the higher teas even existed. When we discuss organic farming and the need to make changes in tea farming—as well as other kinds of agriculture—it's important to remember that the farmers are always the first victims. It is they who handle the agro-chemicals in large amounts, and most directly. Furthermore, it is only by humanizing and befriending them that we can bring about change. We must include rather than exclude—educate rather than ostracize. Like so many other farmers, Mr. Xie started to get the nagging (coughing, wheezing) feeling that these chemicals were harmful to his family, his community and his land. When his wife almost miscarried their second child in 1997, he had had enough. Despite opposition from friends and family, Mr. Xie made a commitment to become an organic tea farmer, no matter the cost. He first attended some organic farming classes held by the MOA organization.
(Mr. Tsai's Nantou Organic teas tas (including the green rhyme jade wulong) I've listed on the pricelist are also certified by MOA. That farm has a similar story with that of Mr. Xie.)
MOA stands for "Mokichi Okada Cultural Services Association International." It was created by Mokichi Okada (1882-1955), who started three great projects in his lifetime: a "Mokichi Style Detoxification Treatment" for land, "Natural Agriculture, Drinks and Food" and "Fine Arts and Culture". These three projects created affiliated groups of people with common goals to help each other. His overall aim was "to allow humanity to expand and flourish, helping create healthier people, families, regions, countries and culture". His Japanese NPO natural agriculture culture movement created the Da Ren farm in 1982, and then in 1991 developed standards for healthy, organic agriculture. They began to set up branches and create a social system for theory and practical cooperation amongst farmers in Japan. In April of 1990, a group of people who cared about Nature and were concerned about environmental pollution wanted to change the situation in Taiwan. They joined the Japanese MOA International Association and created a sister organization to educate farmers and legally certify organic foods and drinks. This Taiwanese foundation was formed to explore and seek health and happiness for mankind and to guarantee environmentally sustainable MOA natural agriculture, expecting this ideology and the sustainable agriculture techniques behind it to spread all over the world. MOA certification is rather rigorous and they do a great job of ensuring sustainable, organic agriculture without much of the bureaucracy or financial interests that trouble a lot of organic certification world- wide. Watching for the MOA certification on teas is a good way to enter the world of organic Taiwanese teas. From 1997 to 2000, Mr. Xie and his family struggled to maintain their principles. His tea was sub-par and he lost most all his customers. His father, who had been worried when he suggested upsetting the status quo in the first place, was very critical of his decisions. Organic farming is difficult, and it requires a radical change in farming and processing methodology—changes that would take time to learn. Rather than give up, as many would have done, Mr. Xie got a part time job as a painter and carpenter, working day and night—either painting or farming—to keep his family afloat. Finally, in the early 2000's, his acumen for organic farming improved to the point that he was able to take his teas to market again. Since then he has gone on to win awards, been featured on TV and has even heard his father, now a sprightly eighty years old, bragging to others about how his tea is organic and good for the environment. Mr. Xie's work hasn't stopped with his own farm. He knew that he would have to keep improving his skills, creating new and better teas, and help show his neighbors the value of organic farming, especially since their land and his are close enough to influence each other. He formed a co-op with other farmers and began teaching locals to shift to organic methods, offering them equal shares in their combined enterprise. As more people have joined this local group, the incentive to do so has also increased. To date, more than twenty farmers in the Ming Jian region are organic, including Mr. Xie's immediate neighbors. Mr. Xie's kind heart shows in his teas. He cares deeply about tea and the Earth. He produces green tea, large and small leaf red tea, as well as several kinds of Oolong; and all with great skill.  The problem is that it is too easy for farmers to make more money with agro-chemicals, and to do it with less work. And that's also why so many of them are over-using the fertilizers and pesticides, reducing the average life of a tea bush to fifteen years, all in the name of personal gain. Many of them get cancer from improper exposure to such chemicals, themselves victims as we mentioned above. Mr. Xie is a man who has seen a different way, and more inspiringly lived that way and taught others to do so. And that is the spirit of tea.
The Tea:
It is completely organic, although it's plantation tea. It is a small-leaf varietal.
The tea has a honey fragrance because it is bug-bitten, much like Oriental Beauty. As more tea farmers have gone organic, they have had to come up with ways to cope with the katydids that come and eat their tea, especially when neighbors use pesticides and all the bugs come to their fields. Allowing bugs to bite the tea, and then processing it accordingly, began with Oriental Beauty in Beipu County, but has recently spread to Nantou as well. The resulting hybrid is sometimes called "Concubine Tea". The bugs bite the leaves and their saliva reacts with the compounds in the tea to start oxidation before the leaves are even plucked. This happens in the summer time, usually between June and August. When the tea is less oxidized, the end-result is a musky, honey fragrance that lingers in the back of the mouth. When the tea is fully oxidized, it has a deeper rich flavor. This the has a cousin that was its predecessor. After having success with a partially oxidized Honey Fragrant Wulong, Mr. Xie decided to try his hand at making a red tea in a similar fashion. In short, it's a bug-bitten ball shaped wulong that has been made with tea leaves that are fully oxidized and then roasted differently.