Taiwan Muzha Charcoal Roasted Tie Guan Yin Oolong
is a traditionally processed tea from cultivar Tie Guan Yin that originally comes from a Chinese Anxi region in Fujian province. (Ti Guan Yin tea is anmed after "Iron Goddes of Mercy", female emanation of Buddha of Compassion, Avalokiteshwara). Taiwanese Muzha 木柵 district is famous thanks to those excellent teas coming from this cultivar (Hong Xin Wai Wei Tao /Tie Guan Yin / 紅心歪尾桃). Its history in this region is not very long, though. Tea was brought by family Chang in 1919 and since then it was successfully grown and it's quality and fame already nearly matches it's relative Tie Guan Yin from Anxi, China.
This tea was grown, processed and finally roasted by Mr. Zhang on his picturesque garden "Seeds of Kindness" located in the wooded hills in the Muzha District, at a northern edge of Taipei. Pan Zhang lives and grows plants in a full harmony with nature. He doesn't use nay chemicals, his garden is fully organic MOA certified .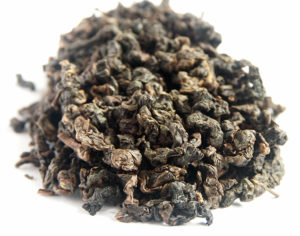 Dry leaf is ball-shaped, has very dark iron-like colour and full intense sweet baked flavour with a strong nutty hint. Brown – green in a cup with full intense sweet baked honey aroma, with velvet soft, creamy very harmonious flavour with distinct tones of pickled fruits, plum butter, sugar cane and walnuts. Tea can stand many infusion, we strongly recommend it for a long archiving. You can find it´s sister at our e-shop as a red tea, Tie Guan Yin Hong Cha.
MOA was inaugurated in 1980 in Washington D.C. It was named the Mokichi Okada Cultural Services Association in honor of Mr. Okada. MOA's aim was to undertake cultural enterprises based on Okada's philosophy, concepts, and plans, which are open to everyone regardless of differences in religion, nationality, and/or ethnicity. Since its launch in 1980, MOA has been carrying out a wide range of activities and events in Japan and many other countries.
As a means of achieving a "world of beauty" made up of "families filled with beauty," MOA currently oversees three major enterprises: Okada Purifying Therapy; MOA Nature Farming/Natural Food Movement; and the Arts and Culture Operations. We also help to establish and support organizations to facilitate cooperative relationships in the greater society with others who work towards the same goals