Interview with legendary Himalayan tea grower John Taylor
Autumnal flush in Darjeeling and neighbouring Nepal has reached is climaxing, we at Darjeeling.cz are happily tasting lots of both great and average teas, intensively communicating with tea traders and growers. Among them there is a number of very interesting people who have dedicated their whole lives to tea growing and processing. We are bringing a short interview with one of these great people. We talked his relationship with the world of tea, his memories of his youth in the tea gardens of Darjeeling. John Taylor was born and raised in Darjeeling, in a family that has grown tea for three generations. He worked as a manager in many tea gardens of far-famed names and today he is the general manager of Himcoop, a Nepali association representing and promoting small Nepalese tea growers.
History of Darjeeling – people and tea
1. John, you come from a family that has been in the tea business for generations (as far as I know). Can you say something about your family history and how it was connected to tea production?
My grandfather was British and came to India as a Major in the British army. After retirement from the army, he ventured into tea and acquired Gopal Dhara Tea Estate as a major shareholder with Basil Crees (owned Lopchu Tea Estate) and the Sarias who still own the property till today. My father started his tea career as manager of Gopal Dhara as a sixteen year old and later moved on as manager at Margaret's Hope, Sungma/Turzum and later became general manager of the Darjeeling company which consisted of the four gardens, Ging, Bannockburn, Tukdah and Phoobsering.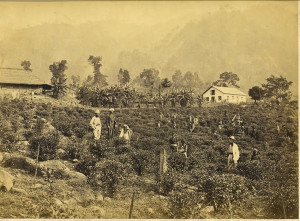 I was born in Margaret's Hope and spent my youth there and in Sungma/Turzum, Tukdah and Ging. I started my tea career as a market executive in Kolkota for Darjeeling Consolidated India Limited and then moved on to manage their gardens in Darjeeling, mainly Singbulli and Balasun Tea Estates before I moved to Nepal.
My elder brother has been with James Warren in Assam as a senior manager and completes forty years with the company next year. My younger brother too started his tea career with Macneil and Magor in Assam and then moved on to New Tea Company in the Terai region as a Visiting Agent and recently, has moved to J Thomas as a manufacturing adviser.
2. Can you please describe how the situation concerning tea industry was during your youth?
Tea in my youth was very British with a lot of British companies still in operation. There were still a lot of British managers and hence, life in the gardens was very British. The Planters Club in Darjeeling was very active with the high teas and dinners of roast beef and Yorkshire pudding. There were a lot of outdoor activities with cricket and football matches and tennis tournaments. Lots of horse riding and hunting, too. Social life was very high but apart from this the British companies were very good and kind administrators and there was a lot of input put back into the estates and lives of the garden workers.
3. How did the social life on plantations changed during the years? How does the community of tea pickers live? Is it like some families do this job and stay there for generations or is it different?
The Darjeeling Tea Industry has always been governed by a body that decides on the welfare of the workers. Wages/salaries/benefits, housing and bonus has always been decided by this body which all companies have to adhere with. Each family is guaranteed jobs in the estate according to the size of the family. Even rice and flour are given at subsidized rates.
So, families did work for generations but this has changed with migration to the Middle East and Malaysia and with easier and better education available now to the youth. The youth are now looking for greener pastures with better education and better salaries in the Middle East and Malaysia and this trend will continue and labour shortage is foreseen in the future just as this is being experienced in Nepal.
Production of tea – processing and drinking
4. How was tea processed at that time and today? Do you see any development, any remarkable changes?
It was only black teas then. Quality teas were made but there has been a remarkable change in quality now. There is more emphasis on quality now with the making of Speciality teas. This has been a remarkable change.
5. What is the difference between Indian and Nepalese approach to tea? Mainly concerning the processing.
Nepal has learnt its tea from Darjeeling. All managers in Nepal have been brought from Darjeeling but we could have the younger generation from Nepal picking up the trade of tea manufacturing soon. Nepal has similar conditions as Darjeeling and will make similar teas but will try and make higher quality teas.
6. Why most of the excellent teas produced in Darjeeling and Nepal go to foreign markets? Why do you think this tea did not spread in your area? Did you try to spread it among your people?
It's the pricing and tea drinking habit. High quality teas are too expensive for the average Nepalis, who drink CTC with milk as they like strong tea.
It's slowly changing with the growth of the middle class. They are slowly changing their tea drinking habit . Orthodox tea consumption is rising and there is already a big growth in Green tea consumption and this has a lot to do with health benefits.