Let's approach Christmas a little differently. For Linzer cookies, use Japanese matcha tea powder and listen to
Bob's "carol"
.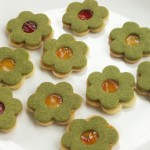 Linzer with matcha
Linzer cookies are very popular not only as Christmas cookies, but also as teacakes. Take advantage of combining the sweet taste of cookies with the specific tea taste and try to add Japanese matcha powder to the dough. You may even cut out tea leaves this time.
Ingredients
10 – 15 g green tea powder for cooking
300 g smooth flour
200 g butter
100 g powdered sugar
1 vanilla sugar
2 yolks
lemon peel

Method
Sprinkle rolling board with flour, add chopped butter and sugar and place two yolks and tea powder in the middle. Mix all thoroughly and then let the dough sit for at least one hour. Roll out a disk to a thickness of at least 3 millimetres. The tea absorbs water and very thin cookies would develop cracks. Cut out your cookie shapes, you can also experiment combining base and top cookies with and without matcha. Cookies are also great without jam. Bake in a preheated furnace at 180 °C for 5 to 10 minutes (depending on cookie thickness). Keep an eye on the cookies not to get too brownish, they would lose the fresh green colour. After the cookies cool down, stir jam on base cookies and combine with top layers. To keep the colour of the green tea in the cookies fresh, keep them in a closed jar until serving.
Matcha balls

If you do not have the time for baking, you can create luxury non-baked green balls with Japanese powder tea in a few minutes. Each fine ball with coconut or roast rice, which will melt in your mouth, is also an equivalent of a cup of stimulating green tea.
Ingredients

10 – 15 g green tea powder for cooking
250 g butter
200 g powdered sugar
200 g milk powder
200 g grated coconut
100 g genmai (Japanese roast rice)
hazelnut, almond for decoration
paper cups

Method
With your hands mix butter, sugar, milk powder and tea powder. When the dough is compact, shape balls of about 3 cm (they are very sweet, a bigger ball loses its delicacy). You may divide the dough in two lumps and wrap half of the balls in coconut or roast rice (which is mildly bitter and combines greatly with the sweet taste). Place the other half of the balls directly into paper cups and decorate on top with a hazelnut or blanched almonds.
Tip: Don´t store the cookies too long, they can get bitter with matcha!